COLORS NO SCRATCH SPONGES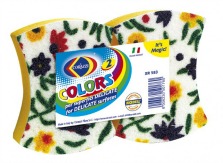 Sponges coupled with white fibre for an effective and no scratch removal of the dirt from non-stick pans and delicate surfaces. Innovative fibre thanks to its multi-coloured wash-resistant printed pattern. The die-cut makes these sponges particularly easy to handle.
The fibre is treated with Microkill, a highly effective anti-bacterial compound, whose action against bacteria and germs lasts even after frequent washings.
Packed in film wrapping.
Range
Kitchen Cleaning, Bathroom cleaning
Item Code
XR583A
Item Name
COLORS NO SCRATCH SPONGES
Product Color
Yellow sponges + White printed fibre
Barcode
8006230501760
Single Piece
Piece Size
2,2x8x11 cm
Number of pieces
2
Box
Size
275x235x190 mm
Volume
0,012 m3
Gross Weight
0,65 Kg
Pack / Box
24