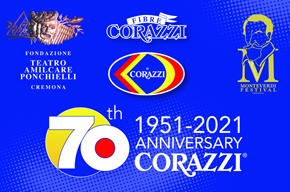 On Monday 21st June, we had the pleasure to welcome, inside our plant, and as a perfect ending of the 'Monteverdi Everywhere' Musical Tournament of Cremona, the great trio of soloist Manuel Fernandez Bravo (flutes and cornets), Ninon Dusollier (flutes and dulciana) ed Elisa La Marca (theorbo), who performed a precious and ancient repertoire, inserted in an unusual and pleasant program and context.
An emotional concert, to celebrate the 70th Anniversary of the foundation of the Company, in the deep memory of its founder Paolo Corazzi, and to thank, in music, all the people everyday working for the success of our activity.
We are grateful to Ponchielli Theatre, to its supervisor Andrea Cigni, and all collaborators, for bringing baroque melodies into our site, giving us this great event, and contributing to the diffusion of Monteverdi's music culture.