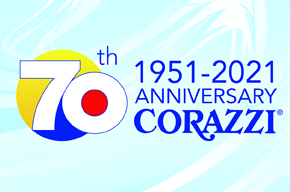 In this 2021, we remark with emotion the 70° anniversary of Paolo Corazzi Fibre activity.
Founded in 1951 by Paolo Corazzi, with great visionary view and spirit of innovation and research, Corazzi Fibre continued to strengthen its worldwide position in the non-woven abrasive fibres manufacturing,
Today, we are proud to say we are recognised as a leader in both household cleaning, then professional & industrial markets, and we are sincerely thankful to all the people daily working with us, as well as to all partners and customers granting us their trust.
Let's keep healthy, everybody, and let's keep moving forward.