ARCOBALENO 5+1 FREE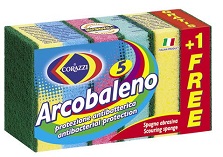 Coloured and long-lasting abrasive sponges, ideal for even the most stubborn dirt and the daily cleaning of kitchenware and household surfaces. The green fibre is treated with Microkill, a highly effective anti-bacterial compound, whose action against bacteria and germs lasts even after frequent washings.
Super convenient packing unit: 1 PIECE FOR FREE.
Packed in film wrapping.
Range
Promotional Items
Item Code
XR843A
Item Name
ARCOBALENO 5+1 FREE
Product Color
Coloured sponges + Green fibre
Barcode
8006230551178
Single Piece
Piece Size
3,4x7,5x11 cm
Number of pieces
6
Box
Size
445x235x430 mm
Volume
0,045 m3
Gross Weight
1,90 Kg
Pack / Box