LIMPIO GREEN 3 + 1 FREE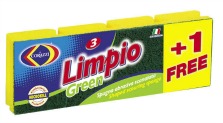 Grooved abrasive sponges suitable for the removal of stubborn dirt and the daily cleaning of kitchenware and household surfaces. The high thickness of the sponge as well as the side hand grip safeguard fingers and nails assuring enhanced comfort during cleaning operations.
The green fibre is treated with Microkill, a highly effective anti-bacterial compound, whose action against bacteria and germs lasts even after frequent washings.
Super convenient packing unit: 1 PIECE FOR FREE.
Packed in film wrapping.
Range
Promotional Items
Item Code
XR807P
Item Name
LIMPIO GREEN 3 + 1 FREE
Product Color
Yellow sponge + Green fibre
Barcode
8006230500947
Single Piece
Piece Size
4,3x6,8x9 cm
Number of pieces
4
Box
Size
385x295x305 mm
Volume
0,035 m3
Gross Weight
1,30 Kg
Pack / Box
24