SUPER BLUE MULTIPURPOSE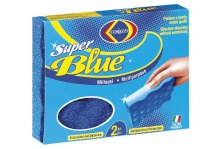 Special no scratch sponges with an innovative abrasive blend spread on the wavy surface for an enhanced efficacy during cleaning operations.
The sponges are treated with Microkill, a highly effective and harmless anti-bacterial compound, whose action against bacteria and germs lasts even after frequent washings.
Packed in cardboard wrapper.
Range
Kitchen Cleaning, Bathroom cleaning
Item Code
XL107A
Item Name
SUPER BLUE MULTIPURPOSE
Product Color
Blue sponge
Barcode
8006230501722
Single Piece
Piece Size
2,5x11x7 cm
Number of pieces
2
Box
Size
345x255x320 mm
Volume
0,028 m3
Gross Weight
1,50 Kg
Pack / Box
48